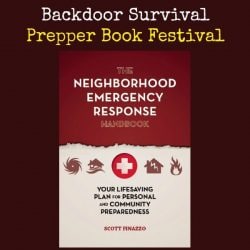 One of the common laments of preppers is they feel they are a lone wolf. In their hearts and minds they know if there is a major emergency, stored preps will be handy, but in reality, it will take teamwork to survive. We are not talking about OPSEC here. Instead, we are talking about community preparedness where neighbors help neighbors to ensure that everyone gets out of harm's way safely. The Neighborhood Emergency Response Handbook by Scott Finazzo is a book about community preparedness. It is a detailed guide to finding like-minded folks in your community that can band together to organize a disaster preparedness network.
Read an all-new interview with Scott plus enter to win a copy of his book for free.
The post Prepper Book Festival 13: Neighborhood Emergency Response Handbook by Gaye Levy first appeared on Backdoor Survival.